I know I say this every time, but I had sooooooooooooo much fun playing with this month's A Million Memories kit! Since the kit was filled with lots of Webster's Pages papers and Prima goodies, I was a happy camper. Here are my creations: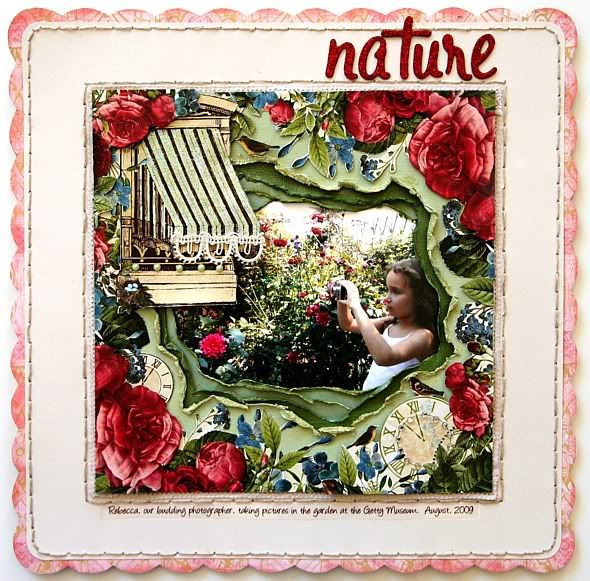 I took this picture of my daughter in the flower garden at the Getty Museum. I wanted to create a floral "shadow box" with multiple layers of patterned paper and cardstock.
I used lots of
Shimmerz
on this next one. For the background, I sprayed white cardstock with blue and green Shimmerz Spritz. I painted the leaves and branches with Shimmerz paint.
The "grass" was made out of gauze that I sprayed with Spritz.

And my favorite part is the pair of love birds that I made out of shrink plastic:
This Basic Grey Origins paper is so gorgeous . . . I just couldn't bare to cut it up.
And last but not least, here's a layout featuring pictures from a hot air balloon ride my husband and I took many years ago while on an African safari adventure. Again, I used Shimmerz Spritz on white cardstock to create the blue sky and green grass background.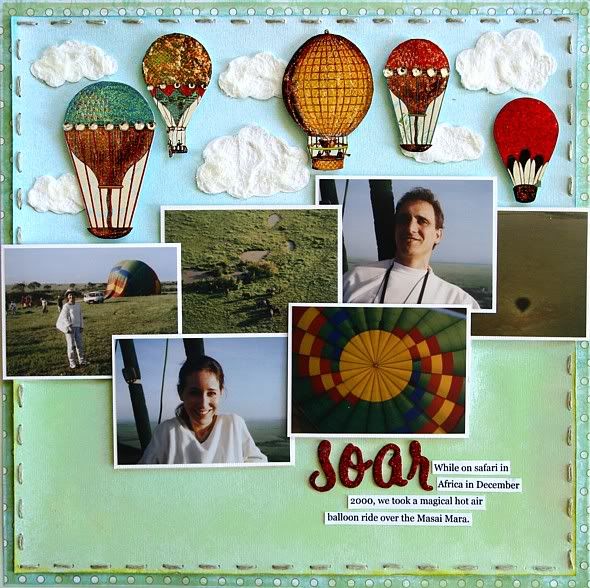 I made the clouds by adhering gauze to hand-cut clouds.
The funny thing is that I've always been afraid of heights, but for some reason the hot air balloon ride didn't bother me at all -- even knowing that if we went crashing to the ground, we would most likely be eaten alive by wild animals. Luckily that didn't happen.
If you want to get your hands on one of these beautiful AMM kits, you can buy it
here
. Thanks, Michelle, for another GORGEOUS kit!!!