I've always had a fascination with dollhouses and miniatures. I bought a plain wooden house a while back and I've been saving it for the right project. Last week I was finally ready to dive in. I gathered up some Prima goodies, fabric,
Shimmerz
, lots of buttons, lace and other little odds and ends and I went to work. Here is my Home Sweet Home: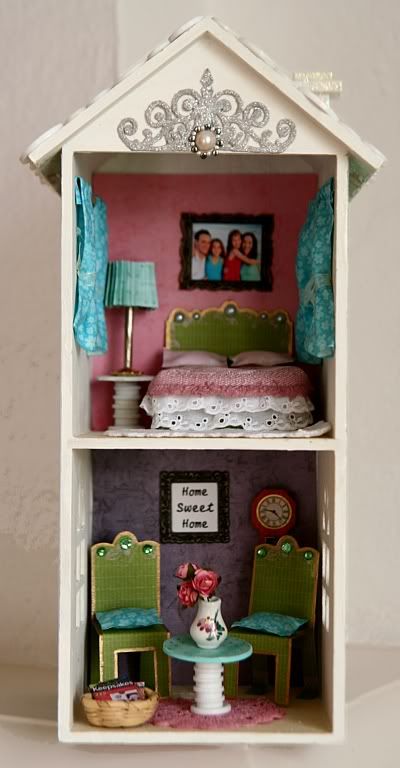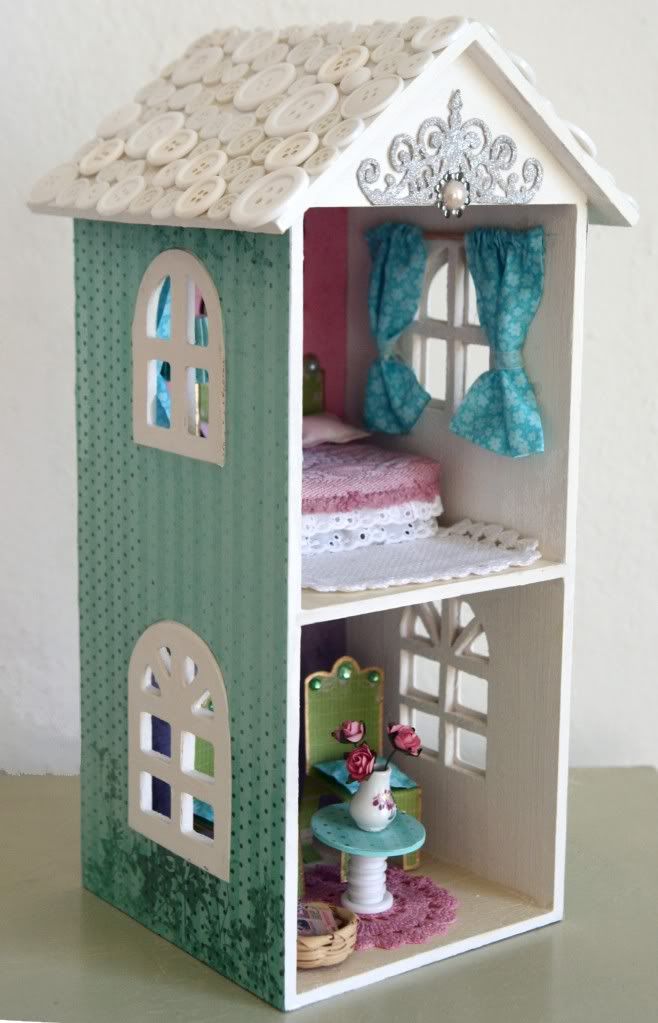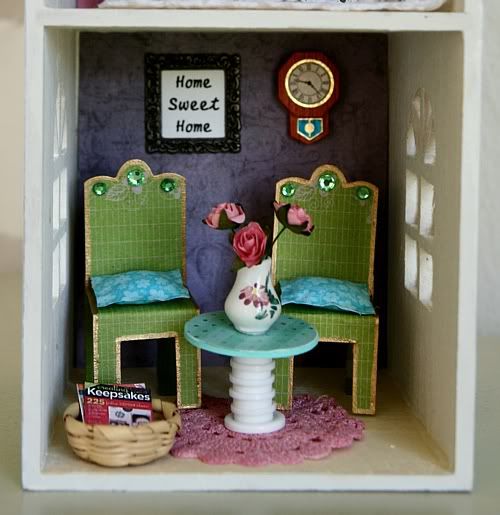 Here are some of things I did to make my little Home Sweet Home:
*I first painted the entire house with acrylic paint (white on the walls and trim, and sandy beige for the floors).
*I covered the outside and some of the inside walls with Prima paper.
*I made the bed and the chairs out of the packaging from Prima flowers. I added little Prima pearls and rhinestones.
*I glued buttons onto the roof and I "Shimmerzed" and glittered the chimney.
*I made the curtains out of fabric and made the rods out of pieces of wooden dowels.
*I made the bedspread and the pillows out of fabric. Thank goodness for Fabritac!!
*I made the bed skirt out of lace.
*To make the lamp shade, I took a strip of Prima paper and created tiny pleats, then I glued the ends together. I added a little rod and stuck it into a gold button base.
*I glued a stack of white buttons together to make the bases for the table. For the table tops, I covered chipboard circles with Prima paper.
*I sprayed the downstairs rug and the bedspread fabric (originally a light tan color) with pink Shimmerz Spritz for a little extra color and shimmer.
*I cut a piece of a Prima felt border and I painted it with Hi Ho Silver Shimmerz Blingz, then I added the jeweled center.
*I printed out a tiny copy of our family photo and put it in a mini metal K&Co frame to hang on the wall. Yep, that's us!!
*I computer printed the "Home Sweet Home" sign and put it in a frame to hang on the downstairs wall.
*I scanned the cover of my favorite scrapbooking magazine and printed out a tiny version of it to put in the basket.
*I put a few mini Prima flowers in a vase that I "borrowed" (shhhhhh . . . don't tell) from my daughters' dollhouse.
I can't tell you how much fun I had creating this little house!! I'm ready to move right in!